MID DAY MEAL
As per studies, one in three of the world's malnourished children lives in India. In India, each year, an estimated 27 million children are born—nearly 2 million of which do not survive the fifth birthday. A major cause of this is malnourishment. Over 200 million people in India do not have access to good food, and more than 40% of the children who manage to survive beyond the age five are malnourished. In India, 46% of all children below the age of three are too small for their age, 47% are underweight and at least 16% are wasted. 79% of children under age 3 suffer from anaemia. More than 50% of children have poor learning capacity because of iodine deficiency.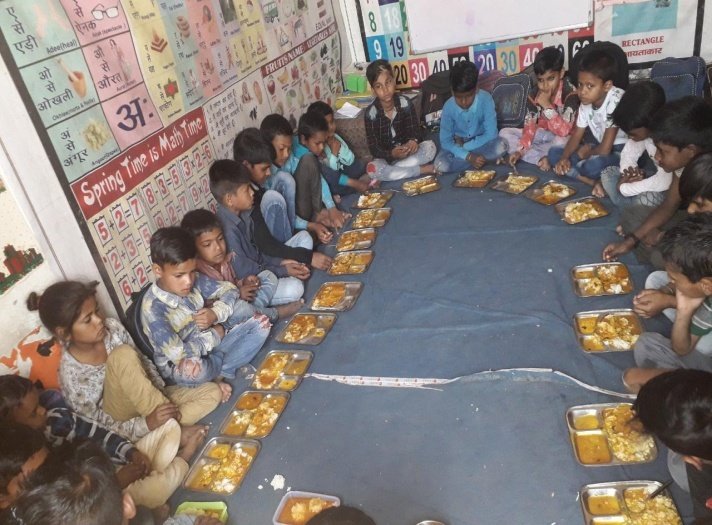 The Purpose of the Mid-day meal programme
The mid-day meal programme for children is implemented to eliminate classroom hunger, increase enrolment and retention, improve socialization among castes, address malnutrition & empower women through employment. This mid-day meal programme in EFRAH is one of the most effective programmes to ensure children have better food and subsequently concentrate better in our learning centers. In Our target area where many children are affected with malnutrition, mid-day meal programme for children is a way out from the issue. Thus EFRAH serve cooked mid- day meal per day to 1000 children 6 days in a week with the support of Self Help Groups. The Food is cooked within learning centers premises which is supplied on every day basis by SHG women.
The Quality of the Mid-day meal
EFRAH strives to ensure that children not only have access to mid-day meal programme but also prescribed quantities of the nutrition. To maintain quality of mid-day meal, we take feedback from teachers of the learning centers on a daily basis while delivering the meal.
NUTRITION SUPPORT FOR BETTER EDUCATION
Malnutrition among children is one of the major problems of our target community. To mitigate this problem, EFRAH's nutrition programme has providing, both direct nutrition interventions and a broad range of "nutrition sensitive" interventions addressing the determinants of malnutrition. The project aims to improve nutritional levels of the underprivileged children at community Education learning centers and simultaneously their enhance enrolment, retention, attendance. The overarching aim of the project is to support the underserved children to reduce child malnutrition and contribute to breaking the intergenerational cycle of under nutrition. The project focuses on scaling up nutrition interventions that aim to strengthen nutrition security, particularly for children, by supplying the right food (quality and quantity) at the right time. The project integrates nutrition goals into broader efforts in critical areas such as water and sanitation, health by sensitizing the children and community. The nutritional support provided at the 10 Community Education centers has reached out to 300 beneficiaries per day.